Tell us a little about who you are and what you do:
Twenty years ago, I taught myself how to run all the different types of embroidery machines such as Melco, Tajima, SWF, Brother, and Happy, and have been working in the embroidery industry ever since.
The best experience I had was working as an Embroidery Manager in the Garment District for a full-service design studio and manufacturing facility in New York City.
Working with brands like Ralph Lauren, Oscar de la Renta, Alexander Wang, DKNY, Marc Jacobs, Coach, and many more, was an incredible opportunity. The company's owner and founder is a wonderful and caring person from whom I learned so much, and still keep in touch today; she is an amazing human being!
After living in NYC, we moved to Tampa, Florida and I landed a job at a retail business overseeing a small embroidery department.
Why We Started Gaspar Stitch
In May 2019, however, our lives changed completely.
On a Sunday afternoon I ended up in the emergency room and two hours later I was in ICU for further evaluation. Long story short, I was diagnosed with bone marrow cancer.
After two weeks, I went back home and started my chemotherapy, and had to go to the Florida Cancer Institute for treatment once a month. Bills quickly piled up, but my wife said, 'Don't worry, everything will get better and we will find a way to cover the bills.'
We decided to use our knowledge of embroidery customization to make some extra income to cover the medical expenses.
So with next to nothing in our savings, we purchased a small PE800 Brother embroidery machine and opened an Etsy Shop
After a few weeks, we got our first orders and made an average of $800 a month running the machine after I came home from work. For the first six months, it worked well, but we knew that we needed to scale the business if we wanted to keep up with the bills and treatment.
So, in November 2020 I decided to quit my 9 to 5 job, and focus on starting my own custom embroidery business for the local Wesley Chapel area, customizing garments exactly the way we love; top-notch with no exceptions!
Now GASPARSTITCH.COM revenue is $14,000+ a month and we are already planning our expansion with a 4-head machine.
We do it all in-house – from Richardson caps to polo shirts, custom golf bags to iron-on patches.
What was your biggest hurdle when starting your business?
The biggest hurdle was getting our first commercial embroidery machine; with so few savings we had to look for a business that offered financing and, after some research, we came across ColDesi and contacted them for further information.
My sales rep Iris Cruz walked me through the process, and I loved the fact that they not only had financing options, but the package included everything to start my embroidery business.
They provided everything from basic thread colors, digitizing software, various backings, needles, oil, scissors, hoops, and even a flash drive!
Plus, let's not forget a state-of-the-art embroidery machine with customer support and a one-stop shop for all your future supplies, blanks, and parts.
So, after I applied for financing and was approved on the spot, we received our Avancé Embroidery machine ten days later, set up our garage located in the Wesley Chapel area, and started work immediately.
We created our own website using GoDaddy and spread the word to our community. In a matter of days, we had customers from all across the Tampa Bay area. Our main customers are startup brands and some are well-established, looking to get high-quality stitched logos.
We just hit one hundred five stars on Google reviews and that has spread the word even further, so now local businesses and even government agencies are requesting our services.
What technologies do you use?
To start, we use the Avancé commercial embroidery machine 1501C Classic and 1501C 2020. And Stitch Era is our preferred program to digitize our logos. We have also purchased magnetic hoops for special garments like golf bags, leather jackets, socks, and blankets for better and faster personalization.
The new Avancé 1501C has touch-screen panel technology with multiple features. With clearer visibility for the files on which we are working and a laser trace device for pinpointing where the needle will land, it is perfect when you need to embroider a specific spot.
It also has a built-in Wi-Fi connection to send embroidery files directly to your machine, so at a busy business like GASPARSTITCH.COM, there's no time to be wasted.
The bottom line is that the ColDesi Avancé Embroidery Machines with the 15 multi-needle, plus all the features and the ability to increase productivity, are truly the best machines.
We will continue to upgrade our shop with more Avancé machines and hope to expand into Direct to Garment Printing for offering custom printed tees.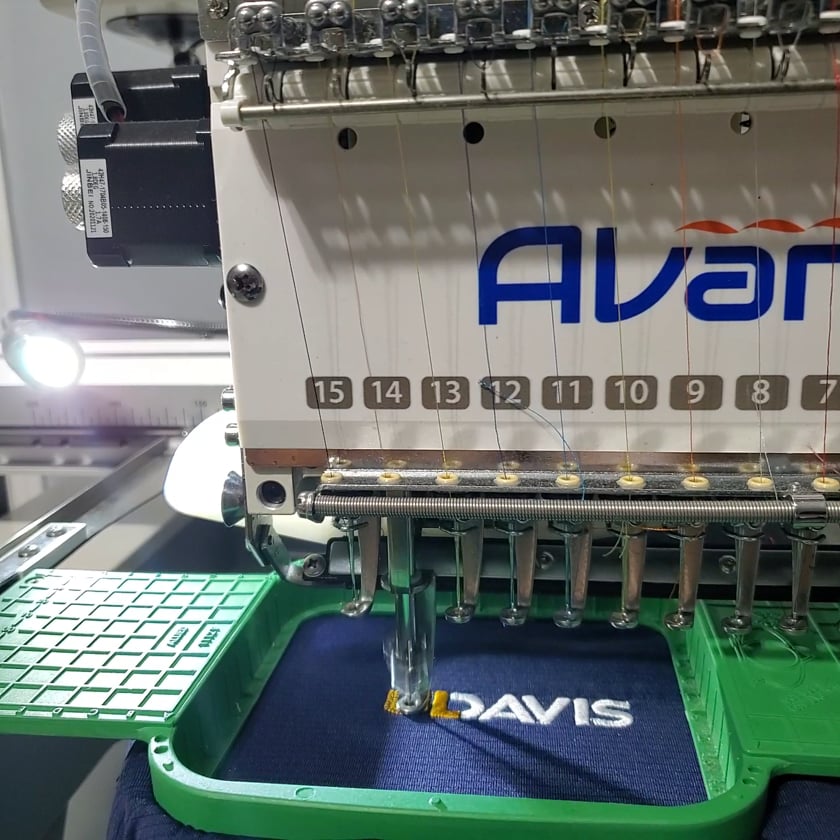 What did you get from ColDesi and why?
I purchased an Avancé 1501C embroidery machine in November 2020. As a result, the business grew so quickly that in May of 2021 we purchased a second  Avancé 1501C and now we are getting some quotes on a 4-head Commercial Embroidery Machine to keep up with the demand.
I will keep using ColDesi for all my embroidery customization and DTG thanks to the financing program they have with Adia Capital.
How do you set your pricing?
Fixed Unit Pricing: After working for over twenty years as an Embroidery Manager, I like to set pricing that is fair to the customer, fast, and easy to quote based on quantities, so they know exactly how much to pay every single time.
Prices are the first thing you see on our website so there are no hidden fees or calculations, it's simple and effective. This is why our customers trust our work because everything is transparent, stitched perfectly, and completed in a timely fashion.
Of course, while the price is fair we make sure it covers materials and labor. Our turnaround time is 7 to 10 business days.
What products do you sell that other businesses might need?
Our 'Bring your Own Garment for Embroidery' is our main focus. It is why designers and small brands trust us because they can provide their own garments and have them custom embroidered just as they require.
We even provide services to three other embroidery businesses. When they are unable to fulfill their orders, we take over.